Best Wedding Anniversary Plant Gifts for your Beloved
Posted on March 20 2023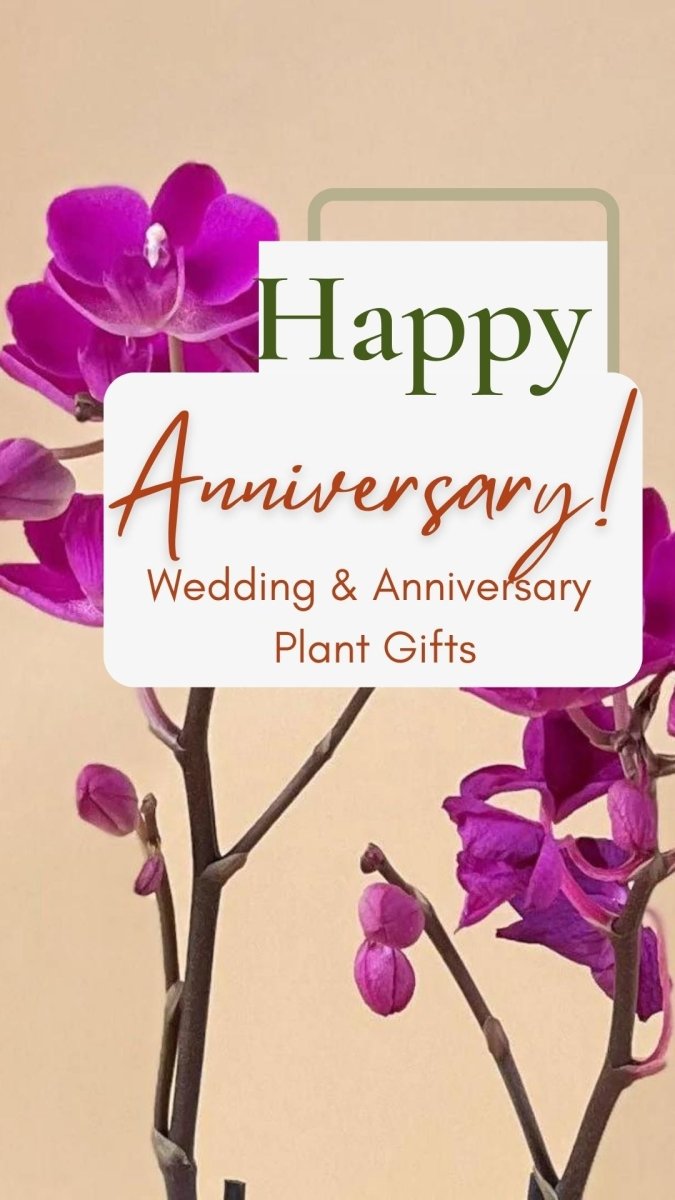 Weddings Anniversaries are a special day to celebrate the love of two people who have committed themselves to each other. What better way to show your spouse how much you care than with a beautiful and unique gift that will last a lifetime? If you are looking for something different than the traditional anniversary gift, why not give a plant as a gift? Plants are a living symbol of love and growth, and they make a beautiful and lasting addition to any home. Here are some of our favorite wedding anniversary plant gifts:
For the romantic
Orchids are a classic symbol of love and beauty, and they make a stunning anniversary gift. These elegant flowers come in many different colors, so you can find the perfect shade to match your spouse's personality. Orchids are also relatively easy to care for, so they will be a lasting reminder of your love. Add a touch of nature in your bedroom, office, or any other space with this lovely and romantic gift.
For the nature lover
If your spouse loves being outdoors, why not give them a plant that they can enjoy in their garden? A beautiful flowering plant or tree is a great way to show how much you care. Air purifying plants like bamboo or peace lilies are also great gifts for nature lovers.
For the green thumb
If your spouse is a gardening enthusiast, they will love receiving a new plant to add to their collection. Choose a plant that is easy to care for and that will thrive in their home. Airplants like the string of cactus is perfect for those with a green thumb! Your spouse can enjoy the sight of the beautiful plants in their home and also the satisfaction of knowing they took care of it.
String of Hearts is another great airplant. A beautiful, elegant plant, the Variegated String of Hearts is definitely a good gifting choice. The String of hearts is a beautiful trailing succulent. It is a trailing succulent with cream, pink, and green heart-shaped leaves. Its stem has a purple tone. With little heart-shaped leaves growing on its long dandy stem, it will add a different dimension to your display whilst also keeping the maintenance down.
For the homebody
If your spouse is someone who loves spending time at home, a houseplant is the perfect gift. Houseplants not only add beauty to your space but they also purify the air. Choose a plant that is easy to care for and that will thrive in your home. We recommend a snake plant or a succulent.
Succulents are can bring a smile to your face. With their cute unique appearances and low maintenance, they are a great way to add a pop of colour without the hassle. Place them on your windowsill or tabletop for an easy decoration piece.
For the fashionista
If your spouse loves keeping up with the latest trends, why not give them a trendy plant? Trendy plants like the Fiddle Leaf Fig or the Monstera Deliciosa are sure to make a statement in your home.
Monstera Deliciosa is a perfect statement piece for any home. It is a good idea to place a Monstera in the living room or where it can get both sufficient attention, light and space to grow. 
Fiddle Leaf Fig is another great choice. The Fiddle Leaf Fig is a beautiful, large leafed plant that makes a statement in any room. If your spouse loves plants and fashion, this is the perfect gift for them. The Fiddle-leaf Fig's broad, violin-shaped leaves with striking veins give it a visual impact that is second to none. It is undoubtedly a stunner and a top choice for anyone looking for a statement piece or focal point at home or in the office.
For the foodie
If your spouse loves to cook, they will appreciate a herb plant as a gift. Rosemary, basil, and oregano are all great options that will add flavor to their favorite dishes. If you are thinking of the perfect kitchen plant, Aloe Vera is the good to have an Aloe Vera plant in the kitchen. It is a great succulent that can be used in many different ways such as for skin care, first-aid, and even cooking!
Always Make it Personal
Don't forget to include a card with your gift! A simple, "Happy Anniversary" will do. If you want to get creative, you can write a heartfelt message or poem. Whatever you choose, your spouse is sure to appreciate the thoughtfulness of your gift.
Don't Forget About the Pot!
When you are choosing a pot for your plant, make sure to pick one that compliments the plant. A pot that is too small will stunt the growth of the plant, and a pot that is too large will make the plant look out of proportion. You also want to make sure that the pot has drainage holes so that the plant does not become waterlogged.
If you are looking for a beautiful and unique gift for your spouse, look no further than plants! Plants are a living symbol of love and growth, and they make a beautiful and lasting addition to any home. Choose a plant that represents your spouse's personality, and we guarantee they will love it. Happy Anniversary!